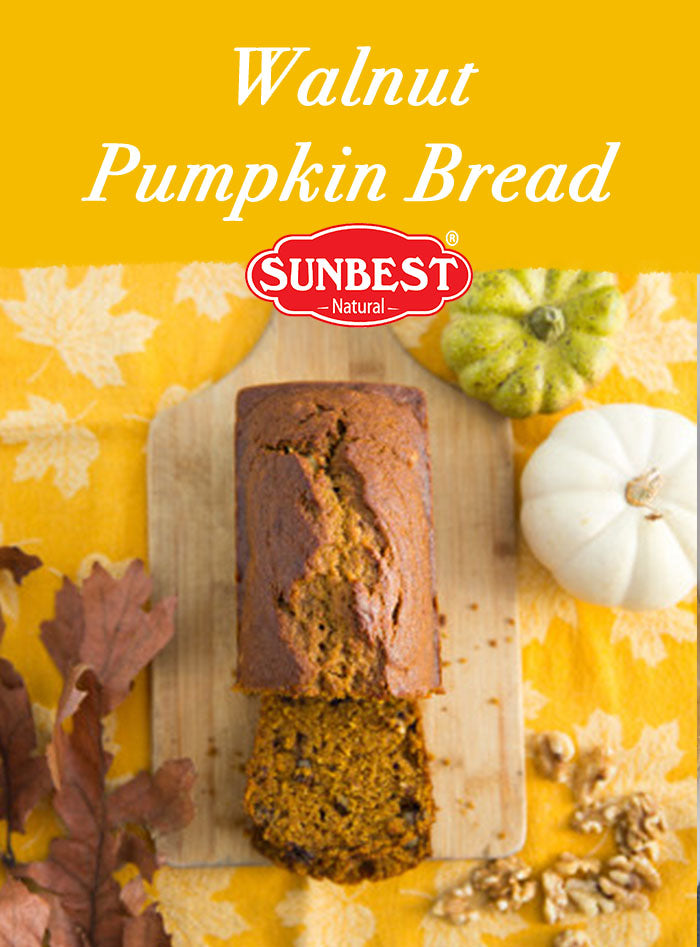 Pumpkin Treats are always in popular demand. March off to your kitchen to make this delectable dessert and its so customizable!
Ingredients
☼ 1 cup vegetable oil
☼ 2 2/3 cups granulated sugar
☼ 4 large eggs
☼ 2 cups (or one 15-ounce can) pumpkin (not pumpkin pie filling)
☼ 2/3 cup water
☼ 3 1/3 cups Unbleached All-Purpose Flour
☼ ½ teaspoon baking powder
☼ 1 teaspoon baking soda
☼ 1 ½ teaspoons salt
☼ 1 teaspoon nutmeg
☼ 1 teaspoon vanilla extract
☼ 1 cup Sunbest Walnuts; chopped
Method
1. Preheat the oven to 350°F. Lightly grease two 9" x 5" loaf pans.
2. In a large bowl, beat together the oil, sugar, eggs, pumpkin, and water.
3. Add the flour, baking powder, baking soda, salt, nutmeg, and vanilla, stirring to combine.
4. Mix in nuts. Spoon the batter into the prepared pans. Sprinkle the tops of the loaves with coarse sparkling sugar, if desired.
5. Bake the bread for 60 to 80 minutes, or until a cake tester or toothpick inserted in the center of the loaf comes out clean
6. Remove the bread from the oven, and cool it on a rack..
*Option: Replace walnuts with cranberries, crystallized ginger(diced), raisins, or pecans.