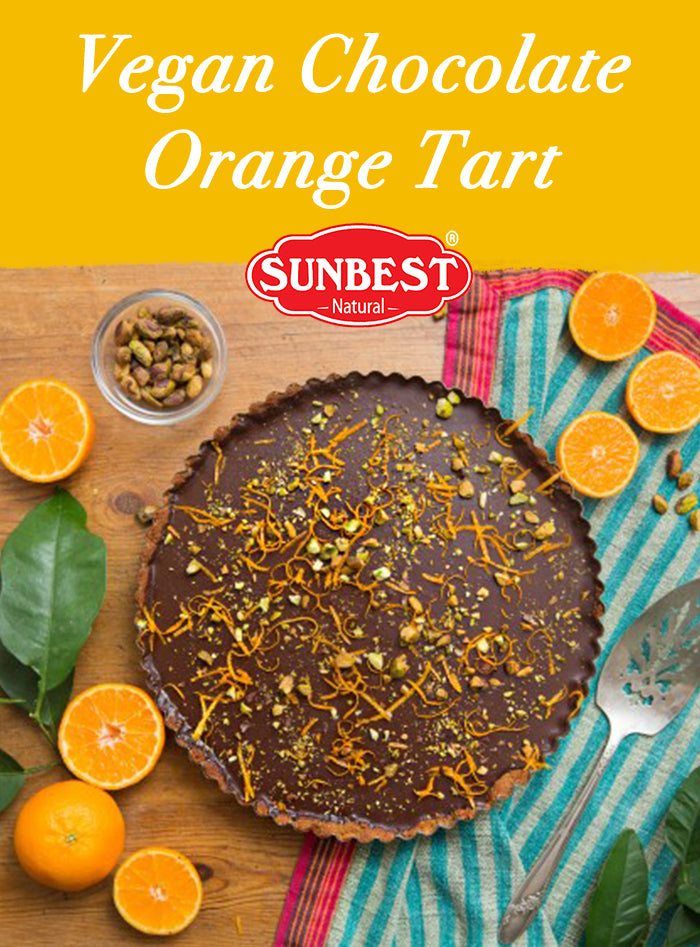 Cut into this divine chocolate orange tart. Flavors of orange surround the chocolate for a combination of great flavors. Garnish with strips of orange rinds our Turkish Pistachios 
Ingredients
FILLING:
1 ½ cups Sunbest Cashews soaked 2hrs, rinsed & drained
1 cups orange segments
1 tbsp orange rind
¼ cup coconut nectar
1 tsp vanilla extract
¼ tsp sea salt
¼ cup coconut oil melted
¼ cup cacao butter melted
1/3 cup cacao powder
BASE:
1 ½ cups Sunbest Almonds
3 tbsp cacao powder
½ tsp vanilla powder
Pinch sea salt
¾ cup Sunbest Pitted Dates, or about 9
1 tbsp cacao butter melted
Method:
1. Line a 22cm tart tin (one with a removable bottom) with a layer of food wrap .
2. Blend dry base ingredients (except dates and cacao butter) in a food processor until crumbly. Then add dates one by one while the processor is running on low, until the mixture becomes sticky. Finally pour in the melted cacao butter and pulse to combine. Press into your tart tin, using your hands to push the mixture into all the grooves on the sides of the tin. It should be ~1/2cm thick on the base and sides. Pop it in the freezer to set.
3. For the filling blend all your wet ingredients except the coconut oil, cacao butter and cacao powder until silky smooth. Then add in the melted coconut oil and cacao butter until completely blended, and finally add the cacao powder. Pour into your base and put the tart in the fridge overnight to set.
4. Dust with extra cacao powder. Decorate with extra orange rind if desired (only add the orange rind just before serving, otherwise it will get dry). Sprinkle pistachios on top.