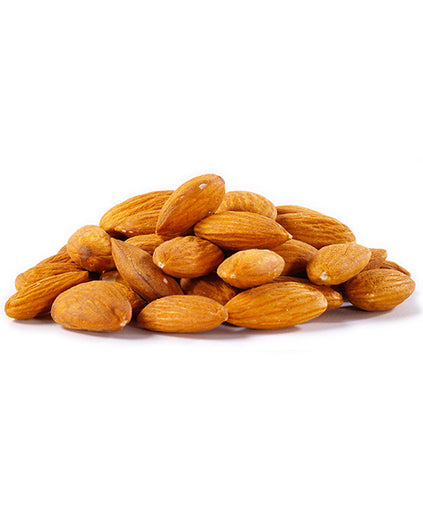 Raw Almonds (Whole, No Shell)
Almonds are among the lowest-calorie nuts. Per one-ounce serving, almonds are tied with cashews and pistachios at 160 calories. They also have more calcium than any other nut, plus nearly 9 grams of heart-healthy monounsaturated fats, 6 grams of protein, and 3.5 grams of fiber per ounce.
Great source of vitamin E, copper, magnesium, and protein

Health Benefits: Contain high levels of healthy unsaturated fatty acids, lowers cholesterol, and boost energy

Used for snacking or baking. Delicious, crunchy, and always fresh

Kosher Certified
STORAGE:

• For longer-lasting product, please keep refrigerated for up to 16 months.

• It must be stored in an airtight sealed bag/container at all times to maintain freshness and to avoid humidity and external flavors.

LINGUINE WITH GREENS AND CHICKPEAS [VEGAN]
INGREDIENTS:
¾ cup of SUNBEST Raw Almonds
41/2 tablespoons extra-virgin olive oil
4 pods of minced garlic
1 teaspoon coarsely ground cumin
1 teaspoon red pepper flakes
11/2 cups of chopped mixed greens
¾ cup of cooked chickpeas
8 oz dried linguine (cooked per the directions on the package)
1 teaspoon salt or to taste
Instruction:
Heat the about 4 tablespoons of oil in a large pan and add in the garlic and gently cook the garlic for about a minute or two, until the garlic is fragrant and turns into a dark shade of toffee. Watch this as garlic moves from delicious to burnt within seconds.
Add cumin and the red pepper flakes and stir well.
Add greens and cook until they wilt.
Stir in the chickpeas and the cooked pasta and mix well.
In a separate pan, heat the remaining ½ tablespoon of oil and add the almonds and stir lightly for a couple of minutes to allow them to gently toast.
Mix in the almonds and serve with the pasta.