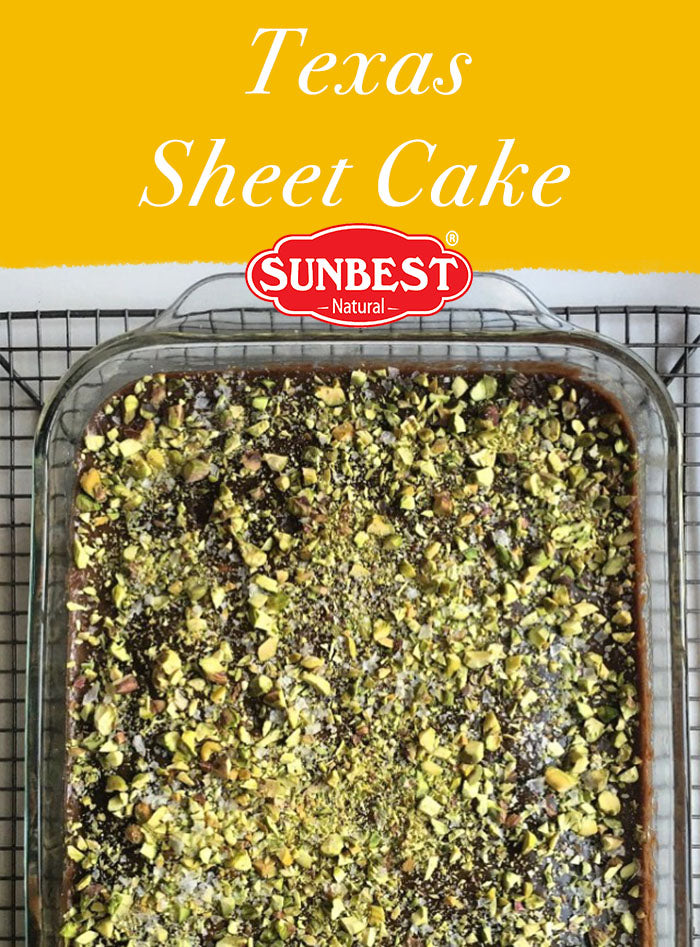 Rich, moist chocolate sheet cake topped with chocolate frosting and pistachios. It is great to serve at parties & pot lucks. A great simple recipe for chocolate lovers.
Ingredients:
Cake layer:
☼ 1 cup butter, cut into pieces
☼ 1 cup water
☼ ¼ cup cocoa powder
☼ 2 cups all-purpose flour
☼ 2 cups sugar
☼ 2 eggs
☼ ½ cup sour cream
☼ 1 Tbsp vanilla
☼ 1 tsp baking soda
☼ Pinch salt
Frosting Layer:
☼ ½ cup butter
☼ 5 Tbsp cocoa powder
☼ 5 Tbsp milk
☼ 4 cups powdered sugar
☼ 1 tsp vanilla
☼ 1 cup Sunbest Pistachios
Method:
1. Preheat oven to 375℉. Liberally grease a 15x10" jelly roll pan with cooking spray.
2. Bring butter, water and cocoa powder to a boil in a large saucepan over medium high heat, stirring until melted and smooth. Remove from heat and add in the sugar and flour, mixing well. Lastly, add in the remaining cake ingredients until blended. Do not over-mix.
3. Pour the mixture into the prepared pan and bake for approx. 20-25 minutes or until a toothpick inserted near the center comes out clean or with moist crumbs.
4. In another large saucepan, melt together the butter, cocoa powder and milk. Bring to a boil, stirring constantly, then remove from heat and add in the powdered sugar, vanilla and pistachios. Working quickly, pour the frosting over top of the warm cake, spreading into an even layer. Allow the frosting and cake to cool before cutting into slices.