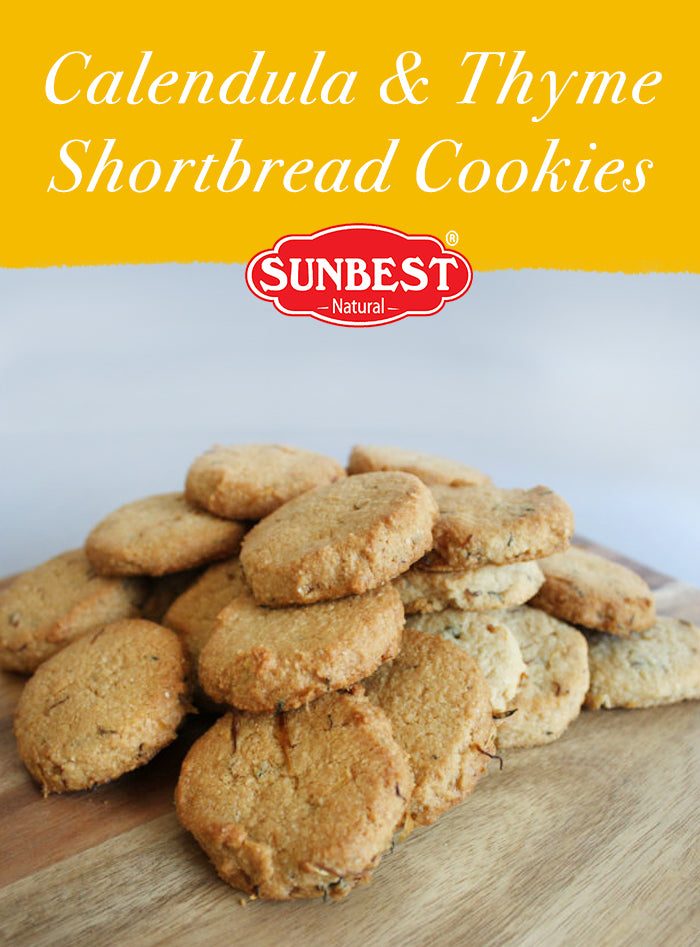 These beautiful cookies are great to serve along with tea. They're so good they'll disappear in a day!
Ingredients
☼ 14 tbsp unsalted butter softened
☼ ¾ cup sugar
☼ 1 egg yolk
☼ 2 Tbsp lemon juice
☼ 1 Tbsp lemon zest
☼ 1 ½ cups all-purpose flour
☼ ½ cup cornstarch
☼ 3-4 Tbsp Sunbest Calendula Flower Petals
☼ 1 tbsp thyme
☼ pinch salt
Method
1. Cream together the butter and sugar, then add the egg yolk, lemon juice and lemon zest and stir to combine. Then add the flour, cornstarch, calendula, thyme, and salt.
2. Gently stir everything together until the dough barely holds together.
3. Take the dough out of the bowl and form it into a log shape. Wrap it tightly with parchment paper, twisting the ends to help hold it all together.
4. Put in the fridge or freezer for about 30 minutes, or until firm. You can store the dough for several days in the fridge, or for several weeks in the freezer.
5. When ready to cook, preheat the oven to 300°F. Slice the log into ¼ inch rounds. Put them on a parchment lined baking sheet, about an inch or so apart.
6. Bake for 25-30 minutes. Let cool. Then serve.