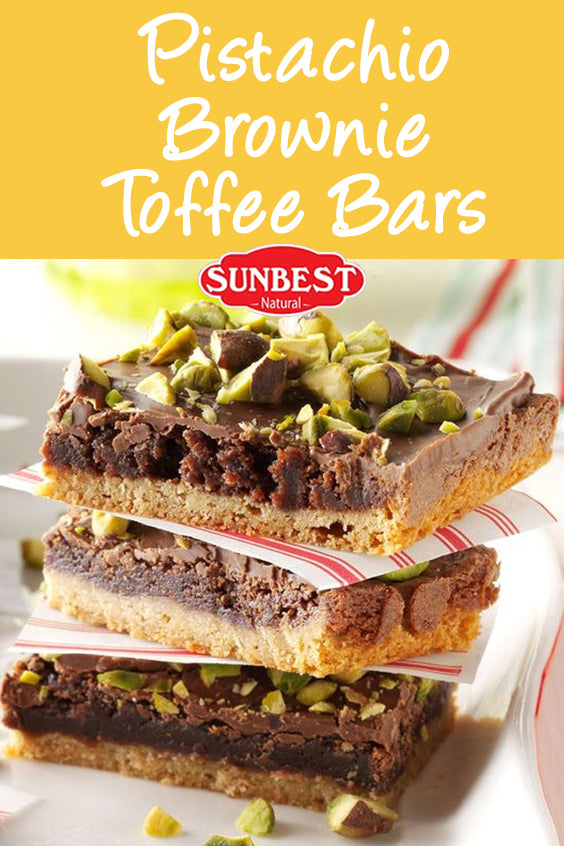 Pistachios add an unexpected crunch and salty twist to this delicious dessert!
Ingredients:
3/4 cup butter, softened
3/4 cup packed brown sugar
1 large egg yolk
3/4 tsp vanilla extract
1 1/2 cups all-purpose flour
Filling:
1 package fudge brownie mix
1/3 cup water
1/3 cup canola oil
1 large egg
Topping:
1 (11.5oz) package milk chocolate chips, melted
Method:
Preheat oven to 350 degrees. In a large bowl, cream butter and brown sugar until light and fluffy. Beat in egg yolk and vanilla. Gradually beat in flour, mixing well.
Press onto bottom of a greased 15x10x1" baking pan. Bake until golden brown, 12-14 minutes.
In a large bowl, combine brownie mix, water, oil, and egg until blended.
Spread brownie batter over hot crust. Bake until center is set, 14-16 minutes. Cool completed in pan on a wire rack.
Spread melted chocolate over top, sprinkle with pistachios. Let stand until set and cut into bars.