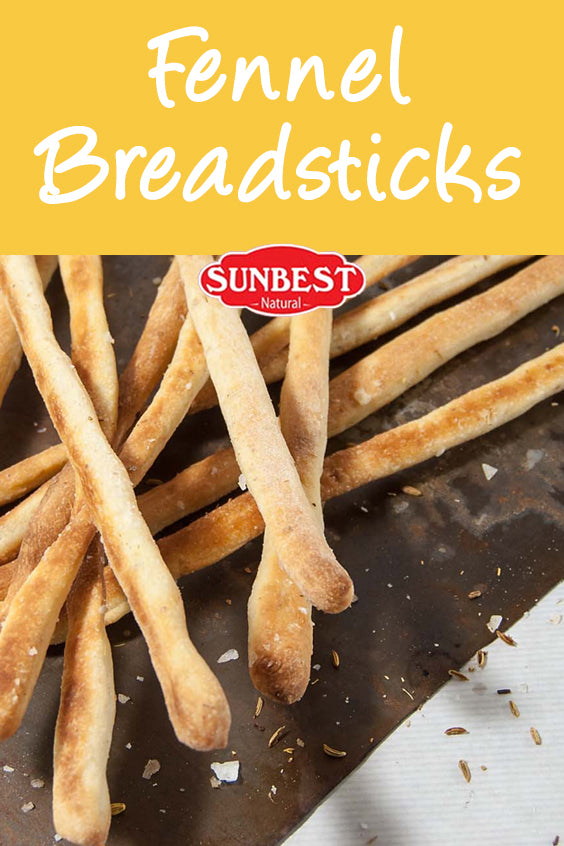 These go well with pasta - and are a great snack on their own!
Ingredients
1 Tbsp SUNBEST Organic Fennel Seed, crushed
1 package (1/4 oz) active dry yeast
3/4 cup warm water (110 - 115 degrees)
3/4 cup vegetable oil
3/4 cup milk
1 1/2 tsp salt
4 1/2 cups all-purpose flour
1 egg
1 Tablespoon water
Method:
In a large mixing bowl, dissolve yeast in warm water. Add oil, milk, fennel, and salt. Beat in 3 1/2 cups flour, and stir in enough remaining flour to form a soft dough.
Turn onto a floured surface and knead until smooth and elastic, about 6 - 8 minutes. Place in a greased bowl, turning once to grease top. Cover and let rise in a warm place until doubled, about 1 hour.
Punch down dough, let rest for ten minutes. Turn onto a lightly floured surface and divide into four. Work with one portion of dough at a time, keeping remaining dough covered with plastic wrap. Cut each portion into 17 pieces and roll each into a 7" rope.
Place 1" apart on a greased baking sheet. Beat egg and water, brush over dough. Bake at 325 degrees for 25 - 30 minutes or until golden brown. Cool on wire racks.