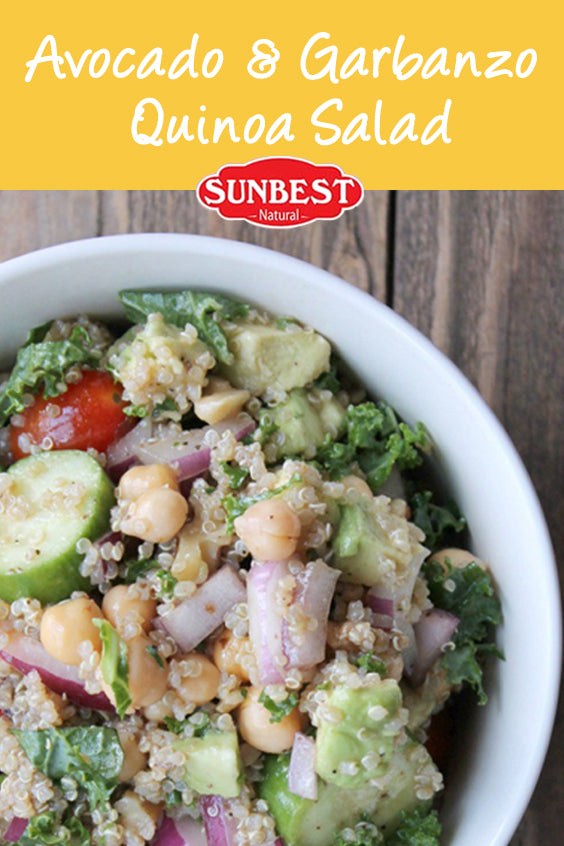 This is a great light dish for lunch, or a great side option for dinner!
Ingredients:
1 cup Sunbest Organic White Quinoa, rinsed
1 can garbanzo beans, rinsed and drained
2 cups cherry tomatoes, halved
1 cup crumbled feta cheese
1/2 medium ripe avocado, peeled and cubed
4 green onions, chopped (about 1/2 cup)
For dressing:
3 tablespoons white wine vinegar
1 teaspoon Dijon mustard
1/4 teaspoon kosher salt
1/4 teaspoon garlic powder
1/4 teaspoon freshly ground pepper
1/4 cup olive oil
Method:
Cook Organic White Quinoa. Transfer to a large bowl and cool slightly. 
Add beans, tomatoes, cheese, avocado, and green onions to Organic White Quinoa, gently stir to combine.
In a small bowl, whisk the first five dressing ingredients. Gradually whisk in oil until blended. Drizzle over salad; gently toss to coat.