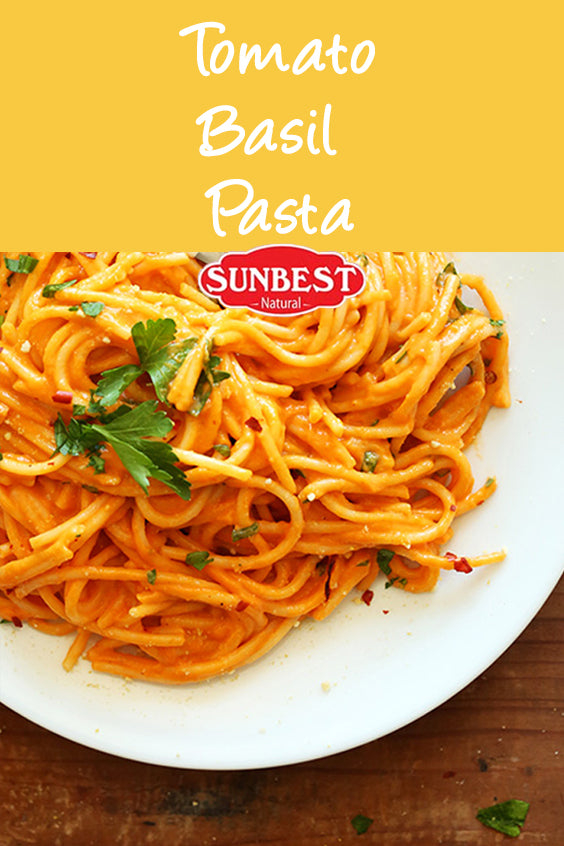 Cashews add creaminess to this light vegan sauce!
Ingredients:
1-3 large ripe tomatoes
1 cup Sunbest Whole Raw Cashews, soaked in water for an hour and drained
1/4 cup Sunbest Organic Basil Leaves
2 Tbsp Tomato Paste
1/4 cup water
2 Tbsp olive oil
3 cloves garlic, minced
1 pound whole wheat spaghetti
1 1/2 tsp salt
1-2 tsp black pepper
Method:
Bring a large pot of salted water to boil. Meanwhile, core tomatoes and roughly chop. Blend in food processor, including seeds and skin. Add cashews, tomato paste, and water. Blend until very smooth.
Once water is boiling, add pasta and cook to package directions.
Heat olive oil in large saute pan over medium-high heat. Add garlic and saute until golden. Add sauce from blender and cook for 4-5 minutes, stirring occasionally. 
Once pasta has cooked, drain and reserve 1 cup of the water. Add pasta to sauce and toss to coat. Add black pepper and basil leaves. Use reserved pasta water to thin sauce if necessary. Serve immediately, garnished with additional pepper and basil.