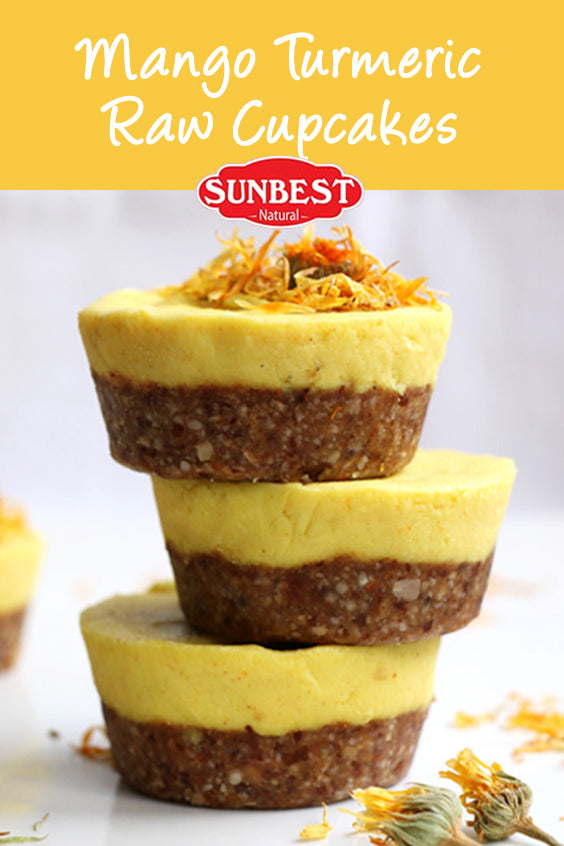 Colorful, tasty, fresh - and raw! These are the perfect dessert or snack for your next springtime party.
Ingredients:
Crust
Mango Turmeric Layer
1 cup coconut butter
2 Tbsp coconut oil
1 cup of pureed mango
2 Tsp fresh turmeric
1 Tsp fresh ginger
1 Tbsp lime juice
1/4 Tsp cinnamon
2 Tbsp maple syrup (optional)
Method
Place almonds and sunflower seeds into a food processor and pulse until broken down into a coarse texture. Add the rest of crust ingredients and blend until mixed.
Divide the mix evenly into a muffin tin and press tightly down.
In a small pot, melt coconut butter, coconut oil, and maple syrup, stirring frequently. Set aside to cool.
Blend mango puree, turmeric, ginger, lime juice, and cinnamon until smooth. Stir into the melted cooled coconut butter mixture. Spoon the mixture onto the crust layer and smooth evenly.
Freeze until set and the top feels firm.
Let sit at room temperature for 10 minutes; run a sharp knife around the edges to release the cupcakes from the tin.
Store in a fridge or freezer in an airtight container.