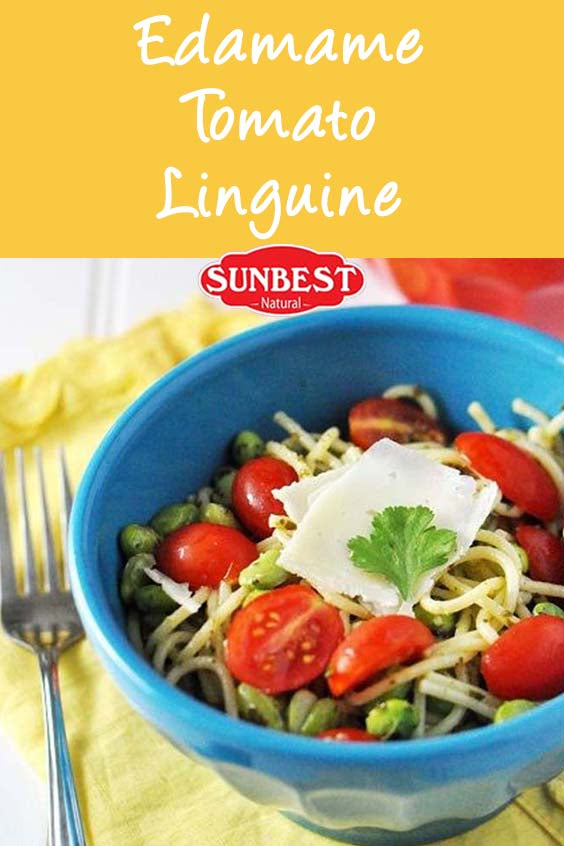 This is a light, summery way to prepare pasta - it's great hot or cold!
Ingredients:
8 oz uncooked multigrain linguini
1 1/2 cups Sunbest Dry Roasted Edamame
4 green onions, thinly sliced
1 Tbsp olive oil
2 cups cherry tomatoes, halved
3 garlic cloves, minced
1 tsp dried oregano
1/2 tsp sale
1/4 cup reduced-sodium broth (chicken or vegetable)
3/4 cup crumbled feta cheese
2 Tbsp Sunbest Organic Basil Leaves
Method:
Cook linguine according to package directions, adding edamame during last 5 minutes. Drain and reserve 1/2 cup cooking liquid.
In large nonstick skillet, saute onions until tender. Add tomatoes, garlic, oregano, and salt. Add broth and reserved cooking liquid, stir and cook for 2 minutes.
Add linguine and edamame, cook and stir for 2-3 minutes longer. Remove from heat and toss with cheese and basil.