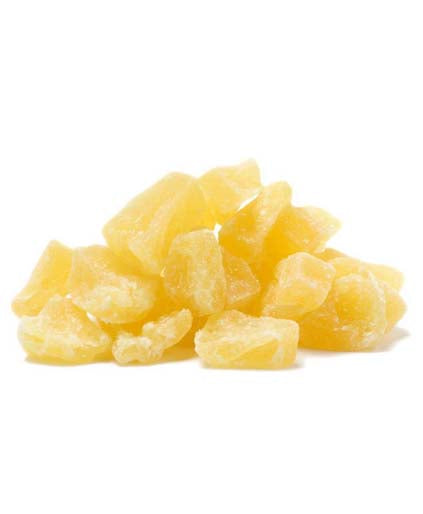 Dried Pineapple Chunks
Pineapples' nutritional benefits are as fascinating as their anatomy. "Pineapples contain high amounts of vitamin C and manganese, these tropical treats are also a good way to get important dietary fiber and bromelain (an enzyme).
STORAGE:

• For longer-lasting products, please keep refrigerated for up to 16 months.

• It must be stored in an airtight sealed bag/container at all times to maintain freshness and to avoid humidity and external flavors.


PINEAPPLE BANANA BREAD 
INGREDIENTS
1/2 cup butter or margarine, softened

1 cup sugar

2 eggs

1/2 cup mashed ripe banana

1/3 cup minced Dried Pineapple Chunks

1/2 cup flaked coconut

2 cups all-purpose flour

1 teaspoon baking powder

1/2 teaspoon baking soda

1/2 teaspoon salt
DIRECTIONS
In a mixing bowl, cream butter and sugar. Beat in eggs. Stir in banana, dried minced pineapple chunks and coconut. Combine dry ingredients; stir into creamed mixture just until combined. Spoon into a greased 8-in. x 4-in. loaf pan. Bake at 350° for 65-70 minutes or until bread test done. Cool in pan 10 minutes; remove to a wire rack. Yield: 1 loaf.