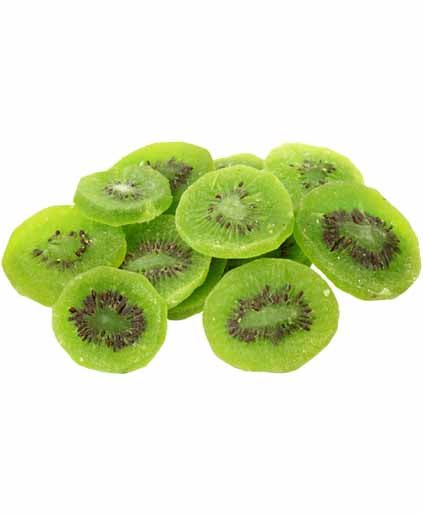 Dried Kiwi Slices
Containing almost 20 vital nutrients, including five times the vitamin C of an orange in one serving, kiwifruits can legitimately be called a super fruit. This fuzzy brown powerhouse with the bright green flesh also is rich in vitamin A, K, E and B, potassium, copper, folate, and fiber.
Health Benefits: Removes excess sodium, manages blood pressure and boosts immunity

Good source of potassium, magnesium and rich in Vitamin C

Sweet and tangy flavor and healthy snack to enjoy!!

OK Kosher Certified
STORAGE:

• For longer lasting product, please keep refrigerated for up to 16 months.

• It must be stored in an airtight sealed bag/container at all times to maintain freshness and to avoid humidity and external flavors.

Lemon-Kiwi Cake
Ingredients
¼ cup SUNBEST Dried Kiwi.

½ cup butter.

½ cup turbinado sugar.

3 eggs.

¼ teaspoon vanilla essence.

4 tablespoon low-fat lemon flavored yoghurt.

¾ cup self raising flour.

2 tablespoon milk.

1 fresh Kiwi fruit, peeled and thinly sliced.
Instructions 
Grease a loaf pan. Preheat oven at 350°F.
Beat butter, sugar and vanilla until light and fluffy.
Beat in eggs, one at a time, beating well after each addition.
Mix in yogurt.
Sift in flour and milk powder and stir in Kiwi fruit slices and dried Kiwi fruit.
Pour batter into prepared loaf pan.
Bake 50 minutes.