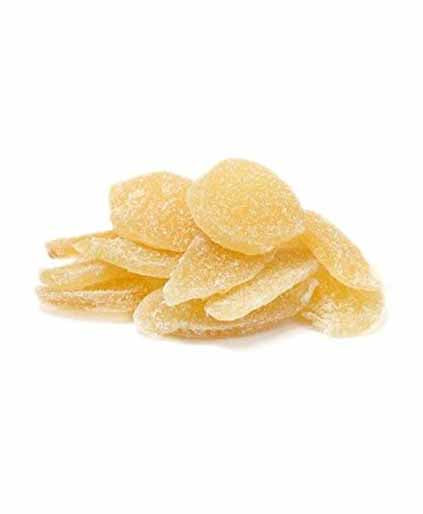 Dried Crystallized Ginger Slices
May include health benefits such as relieving nausea, loss of appetite, motion sickness, and pain. The root or underground stem (rhizome) of the ginger plant can be consumed fresh, powdered, dried as a spice, in oil form, or as juice.
Made from ginger root, coated with fresh crystallized sugar. Chewy textured, sweet, and spicy taste

Add a piece to a steaming hot cup of tea for a unique taste.

Great for snacking and good for baking.

OK Kosher Certified
 STORAGE:
• For longer lasting product, please keep refrigerated for up to 16 months.

• It must be stored in an airtight sealed bag/container at all times to maintain freshness and to avoid humidity and external flavors.
GINGERED TEA RECIPE
INGREDIENTS
1 cup water

2 teaspoons honey

1 teaspoon minced dried crystallized ginger slices

3 individual tea bags

3/4 cup milk
DIRECTIONS
In a small saucepan, bring water to a boil. Add honey and ginger. Reduce heat; cover and simmer for 10 minutes. Remove from the heat; add tea bags. Cover and steep for 5-7 minutes. Discard tea bags. Stir in milk; heat through (do not boil).

 

Yield:

 

2 servings.