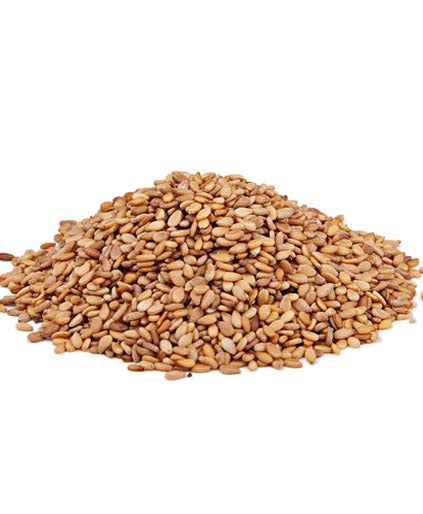 Brown Sesame Seeds
Sunbest Natural Brown Sesame Seeds in Resealable Bag

Versatile seed

Health Benefits: Good source of calcium, iron, very high energy, and supply of antioxidants

Nutty flavor; buttery texture, always fresh

Kosher Certified
STORAGE:
• For longer-lasting products, please keep refrigerated for up to 16 months.
• It must be stored in an airtight sealed bag/container at all times to maintain freshness and to avoid humidity and external flavors.
GARLIC-SESAME PITA CHIPS
INGREDIENTS
2 whole-wheat pita bread (6 inches)

3 tablespoons olive oil

1 teaspoon sesame oil

1 tablespoon brown sesame seeds

1/2 teaspoon garlic salt
DIRECTIONS
Cut pita bread in half. Split each half in two; cut into strips. Place on ungreased baking sheets. In a small bowl, combine the oils; brush over strips. Sprinkle with brown sesame seeds and garlic salt.

Bake at 400° for 3-5 minutes or until golden brown. Remove to wire racks.

 

Yield:

 

about 4 dozen.