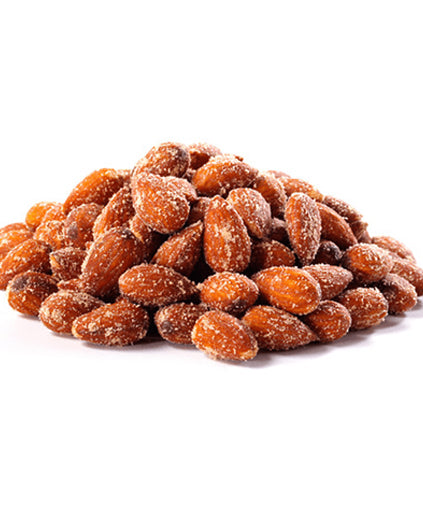 Almonds Roasted & Salted
Almond Roasted & Salted are an amazing and satisfying snack; it's healthy and taste delicious. Almonds are the perfect, wholesome way to condition yourself to stay off a junk food craving. Sunbest Natural almonds are roasted to perfection and salted to perfection. Excellence and freshness guaranteed in every bag.
A single serving of roasted almonds provides six grams of protein and three grams of dietary fiber per serving. They also supply a good source of vitamin E, calcium, iron and antioxidants. Almonds are plentiful in monounsaturated fats, which can help lower harmful cholesterol levels.
Almonds contain lots of healthy fats, fiber, protein, magnesium and vitamin E. 
SUNBEST Almonds Roasted & Salted in Resealable Bag to keep product very fresh.
Great source of vitamin E, copper, magnesium, and protein
Health Benefits: Contain high levels of healthy unsaturated fatty acids, lowers cholesterol, and boosts energy
Used for snacking, topping or baking. Delicious, crunchy, and always fresh
Kosher Certified, Product of USA- Packed in USA.
STORAGE:
• For longer lasting product, please keep refrigerated for up to 16 months.
• It must be stored in an airtight sealed bag/container at all times to maintain freshness and to avoid humidity and external flavors.
ALMOND-AVOCADO TOSSED SALAD
INGREDIENTS
3 cups torn iceberg lettuce
3 cups torn leaf lettuce
2-1/2 cups fresh baby spinach
2 medium ripe avocados, peeled and chopped
1 can (11 ounces) mandarin oranges, drained
1 small cucumber, halved lengthwise, seeded and sliced
1 small sweet red pepper, chopped
1/2 cup roasted almonds
1/2 cup red wine vinaigrette or vinaigrette of your choice
DIRECTIONS
In a large salad bowl, combine the first seven ingredients. Sprinkle with almonds. Drizzle with vinaigrette and toss to coat. Serve immediately. Yield: 14 servings.