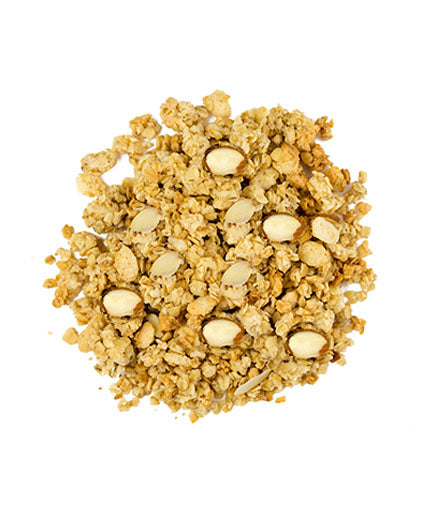 Almond Granola (6 Pack)
Our Almond Granola is the perfect balance of  both sweet and tart. This wholesome granola is loaded with our premium almonds and is a tad sweet. Combine Almond granola with plain Greek yogurt or a generous splash of almond milk for a delicious breakfast or afternoon snack. Granola's oats deliver impressive numbers in fiber and iron, while nuts and seeds add heart-healthy unsaturated fats and some protein. 
The rich serving of fiber ensures you'll be filled up for the rest of the morning, while the sweet aroma of almond makes it appealing to your entire family. Just keep in mind not only for breakfast, the granola cereal is great for snacking on throughout the day. Carry it to work for a nutritious treat at lunch, or combine it with yogurt.
This is also the best granola to take hiking or camping or a lengthy road trip and the family can enjoy healthy and delicious at the same time, without munching on non healthy treats.
Almond Granola is exceptionally rich in fiber, which works as a natural laxative. 
Rich in Antioxidants

Granola contains high amounts of high quality protein that is essential especially important for vegetarians who don't get adequate amounts of it in their diet.

Easy Carry 15 oz Container 

No artificial flavors, preservatives, or colors; No high fructose corn syrup; Non-GMO; All natural and vegan

Great to eat for breakfast or added to your favorite treat. Delicious, crunchy, and always fresh

Kosher Certified
STORAGE:
• For longer lasting product, please keep refrigerated for up to 16 months.
• It must be stored in an airtight sealed bag/container at all times to maintain freshness and to avoid humidity and external flavors.