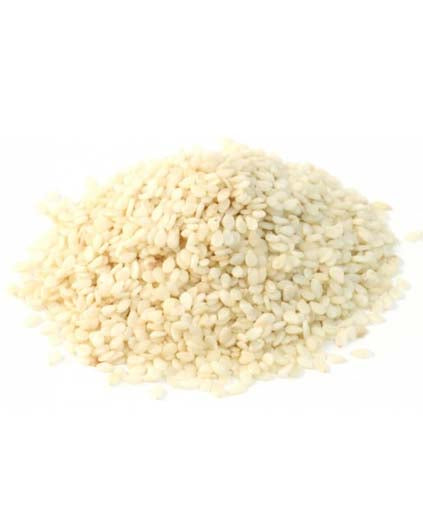 White Sesame Seeds ( Hulled)
Sesame seeds are due to their nutritional content, including vitamins, minerals, natural oils, and organic compounds which consist of calcium, iron, magnesium, phosphorus, manganese, copper, zinc, fiber, thiamin, vitamin B6, folate, protein, and tryptophan. Not only are sesame seeds an excellent source of copper and a very good source of manganese, but they are also a good source of calcium, magnesium, iron, phosphorus, vitamin B1, zinc, molybdenum, selenium, and dietary fiber.
SUNBEST White Hulled Sesame Seeds in Resealable Bag

Health Benefits: Great source of high quality protein, very high energy, and supply of antioxidants

Excellent source of iron, magnesium, and calcium

Versatile seed, always fresh

OK Kosher Certified
STORAGE:

• For longer lasting product, please keep refrigerated for up to 16 months.

• It must be stored in an airtight sealed bag/container at all times to maintain freshness and to avoid humidity and external flavors.