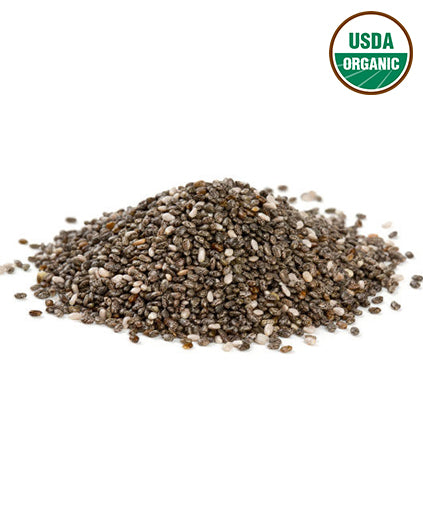 Organic Chia Seeds
Chia seeds are popular for weight loss. They reduce food cravings by preventing some of the food that you eat from getting absorbed into your system. This blocks of calorie absorption makes them a great diet helper.
They can also help your diet by making you feel full like you had a huge meal; This is because they absorb their weight in water, forming a gel that acts like a meal. Athletes use because the "chia gel" can hydrate the body and avoid any dehydration issues. There's evidence to suggest they can reduce blood pressure.  
They are the full of Omega-3; In fact, they contain more Omega-3 than salmon!
Because chia seeds slow down how fast our bodies convert carbohydrates into simple sugars, studies indicate they can control blood sugar for diabetics.
Packed with antioxidants and essential vitamins and minerals such as calcium, magnesium and iron; High fiber, protein, and Omega-3 Great additives for yogurt, oatmeal, and smoothies.
STORAGE:

• For longer lasting product, please keep refrigerated for up to 16 months.

• It must be stored in an airtight sealed bag/container at all times to maintain freshness and to avoid humidity and external flavors.
Kosher Certified and Organic Certified